Putin: Russia to develop offensive weapons to keep balance with U.S.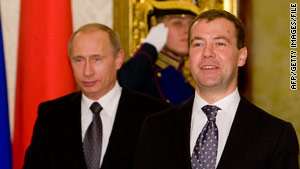 Russian Prime Minister Vladimir Putin, left, and President Dmitry Medvedev favor more offensive nuclear missiles.
STORY HIGHLIGHTS
Russian President Putin calls for an exchange of information with the U.S.
Russia willing to trade information with the U.S. on its offensive weapons
Putin: "It was the balance of forces ... that preserved peace even during the Cold War"
Moscow, Russia (CNN) -- Russia needs to develop "offensive strike systems" to preserve strategic balance with the United States, without producing its own missile defense, Prime Minister Vladimir Putin said Tuesday.
Putin's comment, made at a press briefing in the far eastern Russian city of Vladivostok, echoed a similar call from Russian President Dmitry Medvedev last week.
"If we want to retain the balance, we have to establish an exchange of information: Let the U.S. partners provide us information on [their] missile defense while we will give them information on [our] offensive weapons," Putin said.
Putin also spoke positively about ongoing negotiations between the two countries on a new nuclear arms control agreement that would replace the U.S.-Russian START treaty, which expired December 5.
The United States and Russia plan to complete it and sign it at the beginning of 2010, Russian and American leaders have said. As envisioned, the new treaty would significantly reduce nuclear arms on both sides.
"I think that we need certain rules on weapons limitation which could be equally understood, easily verifiable and transparent," Putin said. "The existence of those rules is better than their absence."
He repeated that offensive and defensive arms should be linked, because they are closely related.
"It was the balance of forces -- including missile defense, air defense and offensive weapons systems -- that preserved peace even during the Cold War," Putin said.
"Since we are not developing [our own] missile defense, there is a threat that our [U.S.] partners would feel totally secure having created an umbrella against our offensive systems," he added. "Then our partners might do whatever they want; the aggressiveness in real politics and economics would increase because of the broken balance."
Last week, in Medvedev's year-end live interview with three Russian TV channels, he reiterated that Russia will continue to develop strategic offensive missiles after the signing of the new START treaty.
"This is normal," Medvedev said. "The whole world is doing this. Of course, this work needs to take place within the framework of conventions and agreements, including our future agreements with the Americans. But this process will continue and our nuclear shield will always be effective and sufficient for protecting our national interest."
Medvedev added, "That doesn't mean that we cannot talk about a nuclear-free world. It's a beautiful and right goal. But we should approach it gradually. ... Not only Russians and Americans, but also other countries who are looking forward to joining the 'nuclear club,' thus causing many problems, should take part in it."

Most popular stories right now